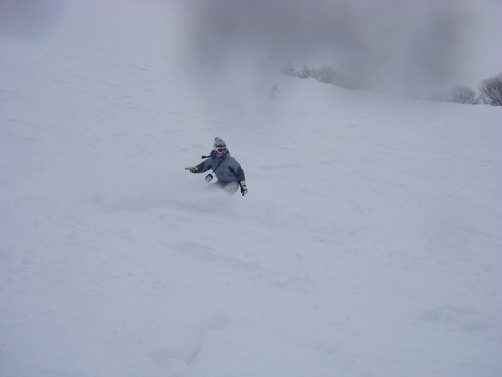 When I waked up on third of January, I remembered my dream clearly on the previous night.
The story was that a famous Japanese actor was one of classmates in elementary school and I used to have
a crush on him. I saw him at reunion after a long time. And I knew he saw me there.
And I was thinking when I asked him out.
It was a romatic dream and I was pleased to have a good dream from the new year.
My sister have dreams to fall in love with celebrities but I hardly have the dream like that.
My husband who slept next to me said " Have I told you I heard someone cried in the middle of the night? " even though I had a good dream.
I didn't listen to his story because I was scared.
We went down stairs to have breakfast. And we heard Korean that Korean tourists talked to each other.
On the day the weather was nicer than the previous day. But things that we were able to see were white color everywhere.
And it snowed all the time. In addition sometimes there was strong winds and that's why we were really cold on the lift.
The last bus to the station leaves the hotel at 2:30 in the afternoon.
We were not satisfied and thought why the last bus left so early.
But we couldn't snowboard even in the terribly cold weather longer.
We ended up not taking lunch break and kept snowboarding.
Speaking of which, I didn't have guts more than me in my early twenties.
When I was young, I didn't care snowstorm was strong or I couldn't see ahead because of snowstorm. But now I lose my will to keep snowboarding.
Does it mean am I getting old?
It was terribly packed on the Shinkansen-train on the way home.
Everybody got home from their parents' house.
We got lunch box and we were gonna wait in line till taking seats.
But it was really lucky to get seats not to wait in line.
People got on the train one after another and they stood on the aisle and even around the sliding doors.
It was awfully lucky.
Our trip was busy and we didn't have enough time during this trip.
But trips are wonderful.
I wanna go traveling to various places also life.