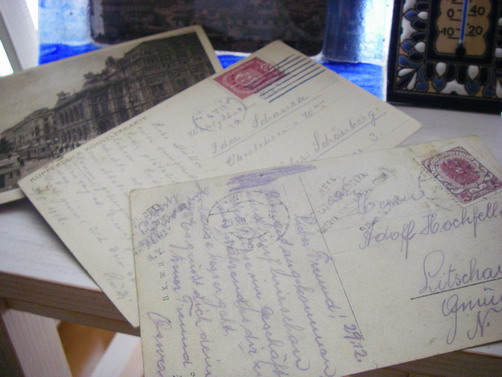 About a week ago I got something from an Austrian friend called
Maria
.
I opened it while wondering what she sent me. I found old post cards there.
She got them at a shop in Vienna of Austria where she lives and
Their post cards are old picture cards that are about 100 years ago.
Something in German or something in it and I can't understand what it's said.
These post cards are written by someone about one hundred year ago.
I'm imagining what it's say.
I thought I asked Maria what it's say but I decided not to ask her it because I can enjoy
imagine what it's say.
Now people use emails much more than mails.
Texting is gone when the you change the cell phone and emailing is gone when you change the
PC or PC is broken. But mailing is not gone. We can keep it.
Emailing is a easy way to communicate to others but also it lose in touch easily.
Doing something that is a hassle is important?
You could say the same thing as studying?
I used to send post cards in summer vacation but these days I don't do that.
I'll mail her or him whom I don't talk with recently.