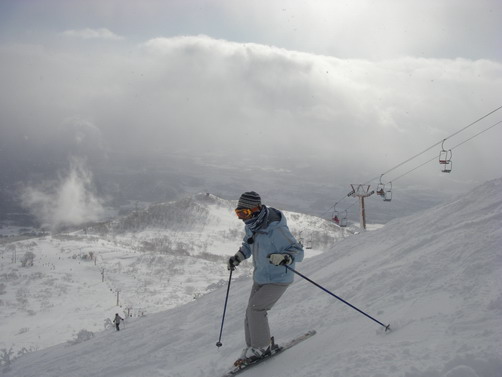 Time flies quickly, when I went to Niseko, it was a week ago already.
A half of customers were foreigners but people who soaked in the hot spring in the morning
were only Japanese.
I wanna recommend foreigners to go to hot spring in the morning also when they come to
Japan. Hot spring wake you up and it feels very nice.
I like hot spring in Niseko-Higashiyama. So I wanted to soak in the hot spring much more
days.
We were tired because it kept snowing and winding strongly. So we didn't snowboarding
on the day and left for Hakodate. Ten years ago I couldn't imagine I didn't snowboard even
in the front of the ski resort.
We took a train to Hakodate again.
At a station of stations where the train stopped we had about ten minutes.
Kids got off the train with their cameras. So I went out there.
I asked a boy who had SLR to see his pictures. Most his pictures were cars.
Every stations were small tiny. Some stations of them made from simple unique one unit
box. We changed trains at Oshamanbe.
Oshamanbe is a name that I just saw a kind of TV game.
I heard Lunch box of crab with rice is famous.
We knew we need to make a book for it after getting on the train and my mother and my
husband were sorry for it.
We started to talk with a mother and her kid who sat on the behind seat on the train.
We were able to see fabulous scenery from the express train that runs on the side of sea.
So I took many pictures from the train.
Komagatake mountain looked beautiful. So most passengers took pictures of it.
When I took pictures, I got along with a girl from Hong Kong.
I was able to connect to her on face book.
There are many tools for communication. How convenient these days are!
After a while a woman who sold lunch boxes came to us.
She told us she had only two lunch boxes of crab-rice that we wanted.
It was around at 10:30 in the morning and we weren't hungry.
But my mother and my husband was pleased.
We got one more memory that we ate delicious special lunch box of crab-rice.
By the way this picture is my mother who skied on the top of the mountain.