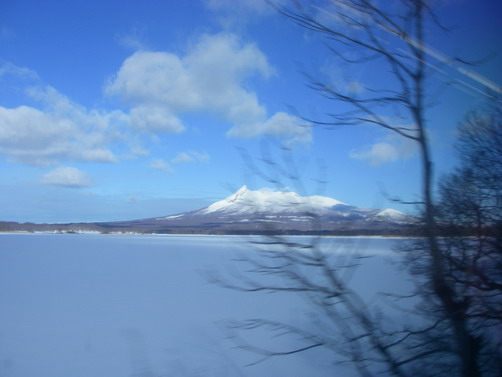 My husband and I have been to Hakodate twice already. So we couldn't seem to find places
where we want to go.
We asked people there any tourist spots that are worth going. But we've already every spot.
My mother came up with going to Tachimachi-cape.
We went through a narrow path. Nobody walked on such a slippery path even between graves.
When we got to the cape, nobody was there.
We took some pictures and walked on the mountain path.
The path was frozen.
We almost slipped and went up the path and went down the path.
And then I ended up slipping over.
When I slipped, I thought I couldn't live in Hokkaido.
Probably I would slip easily. So I wouldn't walk safe and sound.
In the downtown I saw a girl who wore heels even on the frozen road.
These days I don't wear heels even in Tokyo.
I must slip when I wear heels even on frozen road.
Thing that I have to do in Hokkaido is slipping. It means snowboarding!
On the following day we went to Hakodate-Nanae-snowpark where we went to two
years ago.
This ski resort is small but you can see fabulous scenery when it's sunny.
By the way this is Komagatake-mountain that I saw from the train.