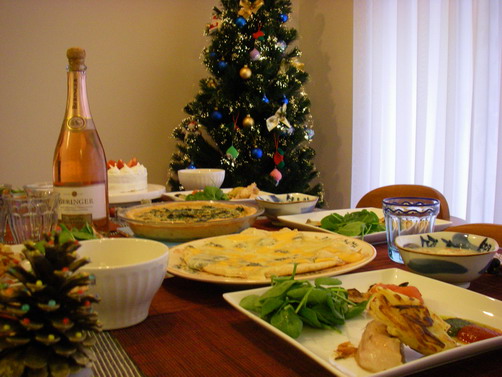 The first thing that I did on the day of our Christmas party was making the crust of quiche
and pizza.
When I left the dough of pie, I kneaded the dough of pizza.
When I let the dough of pizza dough rise, I stretched the dough of pie.
I made the filling of quiche and put it in the ovenstove. And then I cleaned my house
a little and set the table.
Time flied and it was 3:30 in the afternoon when I realized it.
The following day was a week day this year. So we decided to have the party earlier time
than usual. When my family got to my house, any dishes weren't ready yet.
When I cook, everyone enjoys finding treadures in my house.
I put the menu at each seat. Flipping the page, they can find instructions of treasure
hunting.
When they did that, I stretched the dough of pizza and broke 4 kinds of cheese.
Cooking while seeing them enjoying doing it is one of fun things.
And chosing something for someone and getting something from someone is fun, too.
Next year I'll put many boxes under the Chiristmas tree like friends from other countries'
blog.
Putting that aside, the most delicious dish this Chiristmas was definitely short cake.
Short cake that I baked this Christmas was much more incredible than last Christmas.
Sponge cake was really goooood!
My mother who doesn't flatter me said " It's so incredible! " to me, too.
It was worth learing making sweets.
Our happy Chiristmas party finished after eating good short cake!