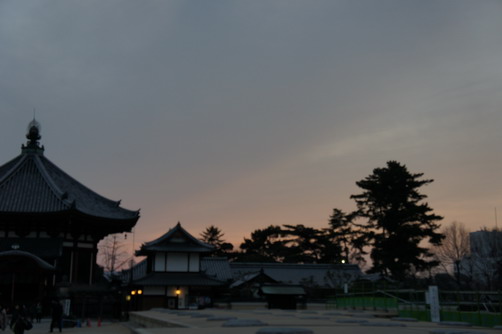 At night on 17th of March my husband and I made a decision to take a day and a half day off
and go to see his grandmother in the hospital all of sudden.
We left Tokyo and went to Nagoya where is in the west of Japan.
Getting there, there was time as usual.
Around at 11:30 many businessmen walked to the station after going drinking
Bright lights sparkled there and people enjoyed spending time as usual.
They talked about something and shot the breeze, laughed while walking.
I was relieved in the crowd.
We got to the hotel around at midnight.
I went to the top floor to soak in hot right away spring when I got there.
I washed my hair and body and I stretched my legs in the large bathtub. And then I went to the bathtub outside.
I met a local young woman there and talked with her for a while.
She works in the railway.
And she said " Many customers want to go to the north of Japan to find their relatives."
to me. She talked about people in Nagoya after the earthquake.
I told her how shocked I was and the atmosphere in Tokyo. The talking soothed me
and I was gonna cry even though my house wasn't broken by this earthquake.
Needless to say, spending simple normal usual days is really happy, I thought.
I hope we get back such a usual day as soon as possible.
My husband and I liked the north of Japan.
I'm gonna work on everybody getting back the usual days, work hard and pay tax for
our country being able to help people and Japanese economy not slowing.
I never forget the bitterness even after few years and I'll help them as possible as I can.
By the way this picture is a picture that my husband took at Kofuku-temple in Nara.