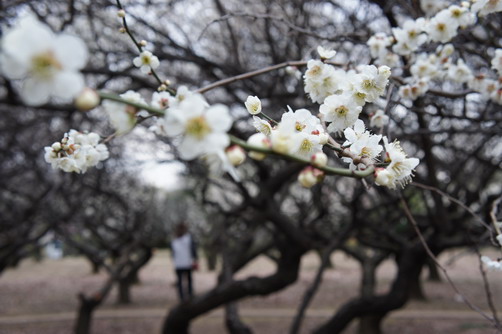 I took this picture on Sunday two weeks ago when I took a walk with my husband.
I can't jog after getting pregnant. So I started to walk on weekends not to be out of shape.
Looking back, it was a scene of peaceful life.
Going out while saying " We are going where? ", and we went to the opposite side as usual route. Then we found a plum glove park near the park and found a shrine we haven't gone to.
My husband used not to pray but after me getting pregnant he started to pray.
On the way to park we found stone-roasted sweet potatos-seller-car. And we got a middle size of potato and shared it.
It tasted sweet and it was delish.
It was not much of a subtle day but I found out that living safe and sound is a very happy thing.
I don't need any exciting.
So on this occasion we, at least Japan, should try to find other way of energy supply instead of nuclear plants.
We must chose inconvenient not convenient and safe of our lives.
I've read a Japanese mystery novel connected to the nuclear plants and I was able to find out the fear of it.
Why don't we think about the nuclear plants.
And we want our thinking to change the safe of our lives.
I heard rescue teams from US, England, Korea, China, Taiwan, Mexico, Russia and France on the news.
Not only rescue teams also many people from other countries are cheering up us.
In my case not only Maria from Austria also Maria from Belgium and Kra-chan from Canada invite me every time when I make a decision.
Pharm-san from HK told me if I need something, he'll send anything except diamonds.
I don't forget to thank them and return the favor.