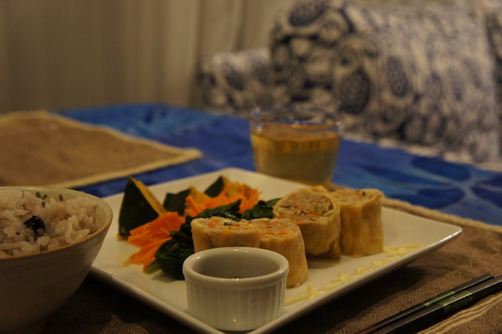 There was a terribly strong typhoon today!
To be honest, I was lucky I'm having a matanity leave now.
I went shopping to the grocery store holding my baby boy in the morning when the rain
wasn't storng yet.
After getting home I played him a lot and saw his face when he slept in my arms.
And then I sometimes saw the strong rain and winds outsides the window.
If I didn't need the rain is included the radio active materials, I wanted him to feel
the rain in the rain.
He can understand words. So I explain various things to him.
For instance today I told him about typhoon. And when we saw the harvest moon
few days ago, I told him about it while seeint the beautiful moon.
I talk with the little baby. So sometimes people see me strangely. Ahahaha!
This picture is dinner that I made last night.
These days I text a friend from college each other and we ask each other about dinner
that we make at the night.
This is rolled mixed minced chicken, some vegetables and some seasoning with fried Tofu.
It was very delish! I love it!