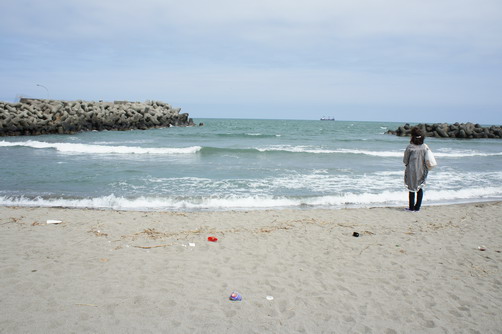 my maternity leave started.
Yesterday it was my second day being a full time housewife that is addictive.
I wake my husband up, made dinner and had it together.
Then I saw my husband out and I was relaxed while watching TV.
And then I took food on the trays in the fridge and washed the trays.
I wanna clean each place in my house in turns everyday.
I've wanted to do that!
Small things make me joyful and happy.
And yesterday I went to see the doctor to check my baby.
I was worried because my baby was in breech position but my baby turned around in this
two weeks and he is head down now.
I'm relieved. My baby is a very good boy. Thanks to my baby!
Many people say " You must be looking forward to seeing your baby. Your baby is almost
coming out. " to me. But I'm gonna missing being pregnant more than looking forward to
seeing my baby.
Probably these 8 months was the happiest time in my life.
Pregnancy is much more wonderful experience than I imagined and I didn't feel maternity blue.
I watch news about young couples kill or abuse their babies on TV many times.
Why I was able to feel that is that I'm not in my twenties and that's why I was able to feel that
and have space in my mind. I thought of that when my friend called me last night.
Each person has the best timing. My best timing is now probably.
The storks with batons that left from me are almost to my best friends.
I wanna say "The storks are working on it. So why don't you keep at it. " to them.
By the way this picture is a picture that my husband took in Toyama.