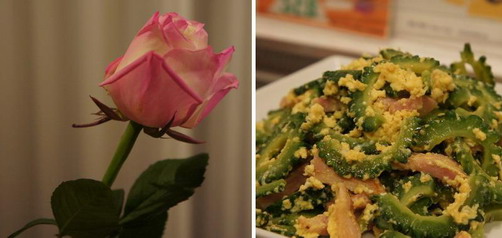 Today it's mother's day.
I do something for my mother-in-law for mother's day but I don't do something special
for my mother.
Mother-in-law seemed to be pleased to get orchid from my husband.
So she called his cell phone few hours ago.
My husband got a rose on the way home from the hair salon in the evening.
He handed it to me while saying " You're almost a mom."
And he picked up Goya (bitter gourd) from the plastic bag and stir- fried it with some meat
and egg after checking a recipe on the net.
It was the best dish I had been eating. So I ate it while saying " It's very good. Very good! ".
He looked like he was happy also.
Today was the first happy mother's day for me.