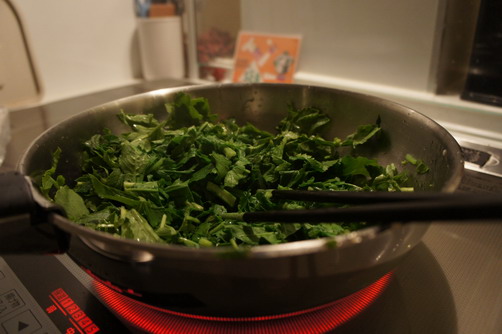 Tonight I ate a lot of green vegetable for dinner after a week or more.
My-father-in law sent me many vegetables that he grew at the garden.
I cut the all leaves of Daikon and fried them in the pan.
I bit some thick stems of it while frying them.
I fried all of them and put most of them in freezer. And I fried a few rice with some of them
and soy sauce.
I cut some radish on the cutting board while cooking and bit them.
Adding a drop of mineral water and broccoli in the pan and I put the cover on it.
I steamed it not boil it.
Vegetables that my father-in-law sent me are not contained radioactive materials.
So it would be waste to boil them with lightly polluted tap water.
These days I try to cook without tap water.
For instance when I make croquettes., I didn't boil potato and steamed it in the
microwave. Plus when I cook pumpkin, I put some mineral water and pumpkin in the pan and
put the head on it. I hardly use water to cook various food.
I make some efforts to cook with only a small amount of mineral water not to be stressed out.
I kind of gave up getting used to drinking tap water contained radioactive material.