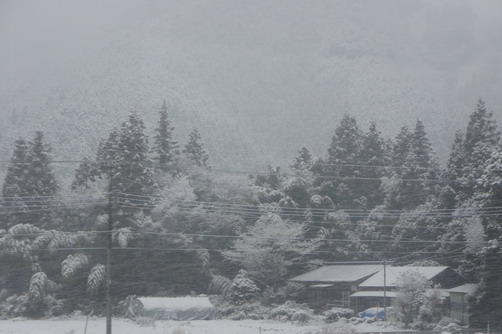 I went to Nikko with my husband all of sudden on the three-day-holiday.
We hardly found the accommodations on the first day of the holidays and everything
was booked on the net.
I tried to call an accommodation in the tourist association by coincidence and one room
was cancelled.
So we decided to book it and pack our stuff. Then we went out.
It was snowing a lot and we had to walk with the bag. So we had to cut down stuff as
possible as we could.
I had a essay book written by Haruki Murakami that a person gave me in a bag.
I let a person borrow my book but the person bought the new same book for me and the person
keeps my book at home.
Putting that aside,
We walked to the station without umbrellas under the snowing.
It had been a long time since it was snowing a lot last time in Tokyo.
And I was pleased I was able to enjoy spending winter finally!
I like cold weather in winter.
Around at noon we got to Asakusa and there weren't express trains. So we took a local train
to Nikko.
We imagined it was not crowded on the train but it was packed.
Everybody wanted to go traveling on three-day-holiday.
We couldn't get lunch box. So we got only two rice balls, some snacks and two bottles of green
Tea. Then we got on the train.
We weren't enough only to have one rice ball but we had to eat some snacks instead of lunch
Boxes.
The scenery from the window was like a monochrome drawing.
And I went traveling to Greece in the book.
When it was dark, we got to Nikko.
In Nikko there were a lot of people and it was snowing hard.