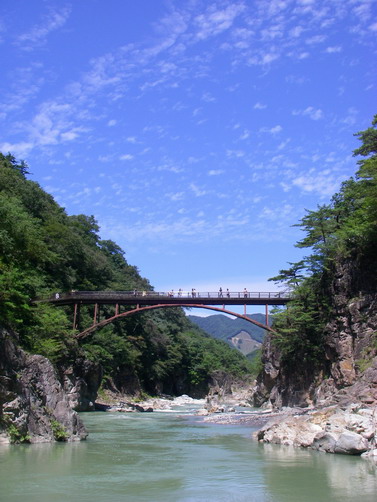 There are a lot of small falls and much water around Kinugawa.
We didn't have any plans. So we decided to go to Ryuoukyo that my husband came up with.
Getting to the parking lot an old lady with umbrella leaded the car.
Pulling over as she leaded, we found out that she was a lady at the cafeteria around there not attendants of parking lot.
She looked like a witch and said " We keep having cold water and we'll wait for you.
We didn't imagine what a wonderful place Ryuokyo was.
There was much green and there were small ponds and spring water ran from the top of mountains. This spring water was rivers and falls and fell down to the pale green river among the white valley.
Mizubasho grow up at the part of the place. So you can enjoy seeing them in spring.
My sister's husband said " When the leaves change color, let us come back here." while laughing.
There are lots of place that you can enjoy walking but it seems difficult for really old men.
When we got back to the parking lot, an man spoke to my sister. He said " Why don't you eat shaved ice?" to her.
He kept speaking to her and insisted on buying it and said "You should eat it. Cause you look almost like getting sunpoisoning.
Actually my sister had decided to buy it. But she didn't buy it since the man pushed her too
much. Relationships could be the same as business. Pushing too much is not good for them.
We passed through the shop and went to the parking lot. Then the woman who spoke to us
before we went to the falls. She said " We have cold water for you. Come to our place!"
Probably many people used to go traveling to Kinugawa by companies' trip.
There are old big hotels that aren't used anymore.
I understand people at shops and cheap restaurants spoke to us many times.