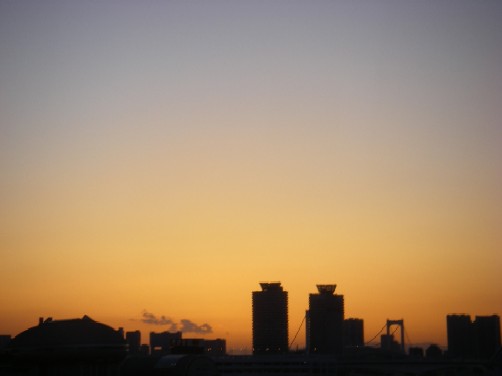 There was an small incidence at work and I felt down.
Oh, I can't put up with it…. I thought. And I felt down carmly.
Actually I hanged in there and managed it. So I was in a freefall slowly and carmly.
I emailed a friend of mine in the bathroom of work and called my sister after working overtime. But I couldn't feel up.
When I went to an electronics retail store since I decided to get my mother-in-law i-Pod,
I called my friend from college on her cell phone.
She didn't take it. That's why I knew she worked yet.
She finishs working around at 8:30 at night. I didn't get seeing her. So I wasn't gonna wait for her and I went to the basement of an department store. I thought I could buy the expensive meat and fish if I wouldn't eat out and looked for something good. But I ended up not buying anything. Coloful cute manicures caught my eyes on my way to the station and I stopped by the shop. When I picked up a manicure of melon color, the friend called me and said" Aya? What's up? "
I asked her she had plans at the night. And she answered her husband waited for her at home. I felt bad for her husband and I hanged up not to say anything to her.
I saw beautiful colorful manicures again. And then she called my cell phone again.
She said " " I already called my husband. So I can see you. Where are you now?"
I felt sorry for her husband but I was more than willing . she said " Your voice sounded lonely. " to me later.
The tender time that she made soothed me.
I didn't know why but I felt lonely at the night.
I was gonna tear if I wasn't be careful.
I'm a happy woman to have the best friend who cares me sometimes more than even her husband.
Friendships are really priceless.
By the way this is the sunset from a train called " Yurikamome".
The tender sunset like friends is warm like spring.
Happy sky watch Friday