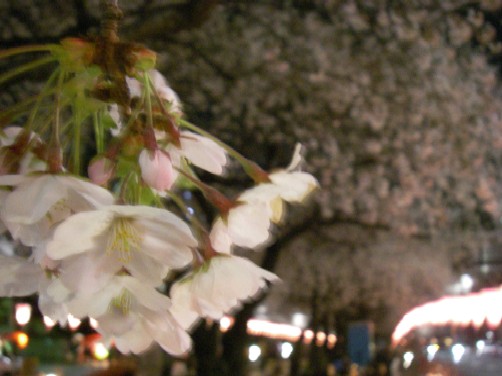 Last friday I jogged from work to a stationon my way home after a long time.
I jogged for an hour and a half hour. An hour and a half hour is very good time
to jog comfortable. I wasn't tired and it felt very nice.
Wherever I went, cherry blossoms were in the full bloom.
Couldn't be happier when I jog under sucha a beautiful cherry blossoms.
When I jogged last year, I found a place where cherry blossoms were very beautiful.
So I stopped by there.
Many people drank with their friends or famiy. Under the cherry blossoms.
Some people ate something that they brought and some people cooked there like BBQ.
I emailed attached pictures my sister's family and my husband many times and we
went drinking to Izakaya restaurant near my house.
My husband said " I don't wanna go home yet. Why don't we go to Karaoke till in the
morning. " But I had to go to work on the following day. So I couldn't.
I went to bed right away since I was sleepy. My husband fell asleep right away even
though he said " I don't wanna go home yet. "
In Japan speaking of spring, it's dawn. Night might be short in spring.