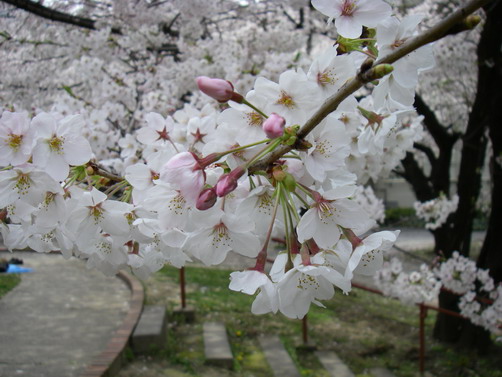 Yesterday I went out in lunch time by myself not the same as usual.
I eat something with female and male colleague for lunch usually.
But some troubles happen in my division. So I wanna be alone once a while.
I'd be tired if I listen to worries from various people and make sure everyone got along.
On the day it was really hot and in the park there were only few people even though
in spring there were too many people there.
On the bench few business men sat like me.
A man smoked and a man was relaxed while closing his eyes.
Nobody doesn't need to talk and every body go to own worlds.
I sat on a bench under the tree.
I ate curry and rice that my husband cooked last Sunday slowly.
Nice winds were blowing.
Even though it was hot, I was really comfortable.
I drank cold tea and after eating I started to read a book.
Actually the title was " the worst " but you can't stop reading it.
The title was " the worst " but the lunch time was the best!
By the way this picture was cherry blossoms in the park last spring.