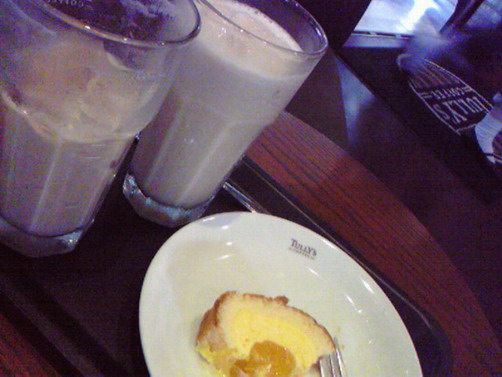 The thing that I've been wanting to do is going to Tully's and drinking rich and strong coffee.
The day before yesterday I was able to do it after going shopping with my husband.
But my baby son was starting to cry there. I was sure there wasn't the nursing room.
I totally didn't know it even though I live here for many years. Actually there was it on the second floor at the grocery store where I go to.
Tully's coffee that I've drunk since a few months was great!
I ordered a plate of desert, too!
There is a lot of thing that I can't do it since my baby son's birth.
But there are many customs that got better because I have a baby son.
I don't sleep in until over at 10 in the morning on weekends. Now I get up around 6 and have breakfast. In addition I go to bed at 9 or 10 at night. It's a very good lifestyle.
And now it's very hot but I take a bath not a shower everyday and I hardly don't watch TV.
I can't go out by myself.
Because I'm mother not father. Yes, it's the thing that is hard.
But you can say it's mother's special privilege.
Mother can feel that her baby's existence in her womb and she can experience the pain and happiness when the baby comes out from her body. Also she can be breastfeeding to her baby.
I wanna enjoy doing mother's job!