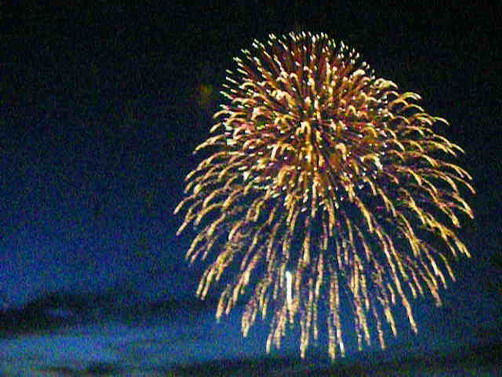 My sister's family used to go to see the fireworks together but this year my sister
just had a baby. So they couldn't go there.
When my husband and I got some alcohol to drink while seeing fireworks, he was
disappointed while saying " Are you sure they can't coming? " many times.
By the way after counting down many fireworks set off. Every year we saw it and
I get goose bumps every year.
I like seeing the fireworks that pyrotechnician made after listening to the title of them.
Their name are written by Chinese characters and unique.
My mother said the name again and enjoyed seeing them together.
Drinking while seeing fireworks is fun.
I waited for the fireworks for 5 house this year but they finished setting off them only
for one and a half hour.
We were sitting there drinking after finishing for a while and we got back home.
We stopped by a coffee shop and this year this fun event finished.