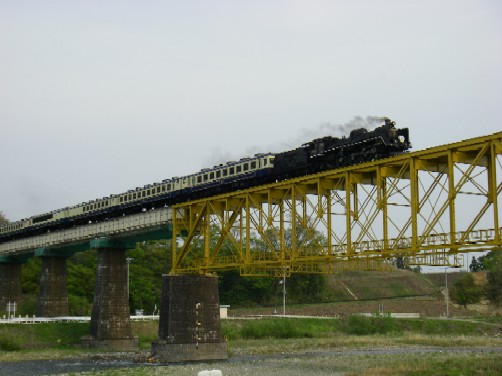 We had booked breakfast at the establishment even though we didn't know there weren't restaurants around there. It was lucky we had booked it.
After checking out we pretended to do morning assembly like elementary school while calling a command.
Going to a café where I and my husband have been to two years ago for coffee after breakfast. After eating cake and drinking coffee we walked around in the Aizu town.
My husband and I who likes shopping didn't buy anything but my sister's family enjoyed getting two glasses for cold Sake and various things.
We wanted to eat something gorgeous for lunch but we ended up eating not gorgeous" Sauce-Katsudon" that is famous there.
My husband said " If you don't come up with somewhere you want to go, I want to see SL." to us and my sister's husband agreed with him right away.
Where they chose for taking pictures was the river with a huge stone bridge.
Getting there, few people with big cameras waited for SL.
We walked around there to choose the best place to take pictures of SL and my sister struck funny poses because we had to practice to do action mode.
Seeing pictures of it, the pictures were very funny since they were like cartoon film.
Time passed and we heard the sound of SL!
We took many pictures while being excited with SL and the sounds.
Then we rushed to the next station where SL stopped and saw SL.
We were really impressed with SL and the sound.
Conductors who waved to us looked like heros and we waved back to them like kids.
Oh, I didn't know we were geek of railways!