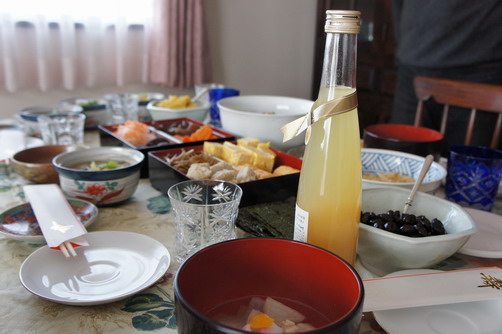 Time flied and the new-year-holiday was over.
But you know what, I'm a full-time-house wife now. So it doesn't matter it's a holiday or not.
But I'm kind of excited when the holiday comes.
Next year I'm gonna come back to work. So this holiday was the last new-year-holiday
that I'm not anxious when the holiday is almost over.
By the way I've been wondering it's the best choice to come back to work or not.
But everytime I think it's the best choice from some reasons.
I can be a full time house wife anytime.
If I thought I couldn't do it or got exhausted, I could quit my job.
After coming back to work I don't wanna push myself and I wanna take it easy.
Working is not suger coated.
I have to find the problems and go the distance.to change the way people work.
I might say it's tough about it next year.
But I don't have to think something next year now.
I made 4 Japanese special dishes called Osechi for the new year.
I cut corners and I didn't make one dish even thought I made it last year.
I enjoyed playing our annual card games with my family.
And it was wonderful time to spend time with my nephew and my baby son in the new year.
Happy time has started!